Contribution to Economic Development
Bangkok Bank focuses on strengthening its business using its rich depth of knowledge and experience, business networks, marketing strength and quality products and services in order to meet customers' needs and grow with them. This approach applies to all of its major customer groups including large corporations, small-and medium-sized enterprises (SMEs), farmers and farming businesses, and consumers. Accordingly, the Bank initiates various projects and activities as appropriate for each customer group, as well as the general public. The Bank also has processes for receiving opinions of customers and service users through various channels, such as electronic and online service channels, its call center, and customer satisfaction surveys.

The Bank annually conducts surveys on the needs and satisfaction levels of customers using our service channels. The 2017 survey showed that the customer satisfaction score for Bualuang mBanking rose to 9.13 out of 10 from 9.05 in 2016, while customer satisfaction with branches rose to 9.26 out of 10 from 9.19. The survey was organized by Ipsos Company during September-November 2017. Results were analyzed and used as guidelines to increase the quality of the Bank's services and business operations. This will help meet customer needs in areas such as improving operating systems and developing new functions, so that customers can make transactions via electronic channels more easily and conveniently.
Responsibility to Society
People's happiness and welfare depends on vibrant communities backed by strong social foundations. We work with a wide range of stakeholders to help build a better future.

We continue to support the community and society with focus on three areas – i.e. Maintaining Thai Arts and Culture and Literature, Providing Education Opportunities, and Maintaining Religion and Upholding the Monarchy – which have been well-received by the public.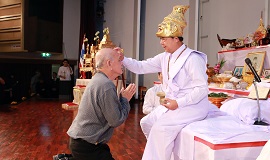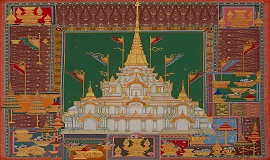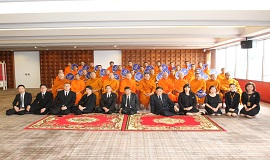 Conservation of Environment and Natural Resources
A healthy environment is necessary for life. We educate our customers about sustainability, offer green finance and follow sound environmental practices in our own business.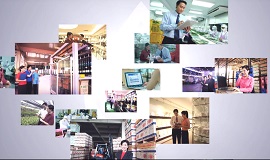 Good Corporate Governance
Bangkok Bank recognizes the importance of good corporate governance as a major factor in enhancing the efficiency of our organization.

We therefore seek to manage our business in accordance with the principles of good corporate governance which we regard as the basis for high quality performance, sound financial standing, and sustainable growth. Our Corporate Governance Policy provides the direction and framework for managing and monitoring the Bank in accordance with the principles of good corporate governance.

Our goal is to be a leading Thai bank that provides high-quality financial services, that is well-equipped with qualified human resources and world-class technology and working systems, while maintaining our status as a well-established international bank and a premier Asian bank. To achieve this goal, we have established a corporate governance policy which is appropriate for the economic and social environment in Thailand and the region.