The Bank has incorporated sustainability concepts and strategies into its strategic plans. This is aimed to help promote agility and resilience amid changes and assist the Bank to manage risks effectively, especially long-term risks that need be managed continuously given prevailing trends such as an aging and aged society, climate change and pandemics. The Bank has formulated sustainability strategies by considering materiality issues derived from a process of engaging various stakeholders, including executives and employees, as a basis for formulating its strategy.

The Bank's strategies on sustainability cover four areas as listed below:


Human Resource Development and Retention
The Bank treats employees equally and fairly, provides for their occupational health and safety, and continually develops their skills.
Management of Environmental, Social and Governance Risks
The Bank conducts its business responsibly, respects human rights and strictly complies with laws, rules and regulations as stipulated by the government. The Bank also manages environmental, social and governance risks and the impacts thereof on its own business as well as on those counterparties in its supply chain.
Supporting Inclusive Access to Financial Services
The Bank provides financial literacy and promotes financial inclusion to prepare for Thailand becoming an aged society, to reduce inequality and build stronger foundations for Thailand's economic system.
Doing Business under Good Corporate Governance Principles
The Bank adheres to good corporate governance principles, observes its established business code of conduct, and communicates its business code of conduct to all internal and external stakeholders.
Engagement of both internal and external stakeholders is pivotal to the Bank's sustainable business conduct as it enables the Bank to better understand the expectations, needs and issues of its stakeholders. This understanding will lead to close collaboration for a better response to challenges and the mutually beneficial pursuit of new business opportunities. These actions, in turn, will enhance the development of our products and services to serve the needs of each group of stakeholders while preventing and mitigating any potential risks and negative impacts from carrying out our business. Through stakeholder engagement, the Bank will be able to create value and strengthen good relationships, laying a strong foundation for the Bank's long-term sustainability. The Bank has classified its stakeholders into 7 groups as adapted from the Stakeholders Engagement Standard AA1000SES: 1. Shareholders and Investors, 2. Employees, 3. Customers (Business and Individual), 4. Counterparties (Suppliers, Service Providers and Contractors), 5. Creditors, 6. Industry Peers, and 7. Community, Society and Environment (including Regulatory Authorities, Public Sector and Mass Media).

Approaches to Stakeholder Engagement


Materiality Issues
Stakeholder Inclusivity
Response to Stakeholder Expectations
Materiality Issues Assessment
The Bank reviewed the existing materiality issues which had been in use since 2018 to update them to be line with and appropriate for the current situation and the next few years. In so doing, the Bank provided an opportunity to all stakeholders to express their opinions on all material aspects that are significant to the Bank, as well as to share their expectations, perspectives and suggestions on the Bank's operations, in order to underscore the importance of creating value together with stakeholders. The Bank has applied various methodologies to gather information and feedback from stakeholders, such as questionnaires and in-depth interviews, in order to identify materiality issues.
Steps of Materiality Issues Assessment
Identification
Prioritization
Screening and Examination
Review
Materiality Issues Year 2020-2023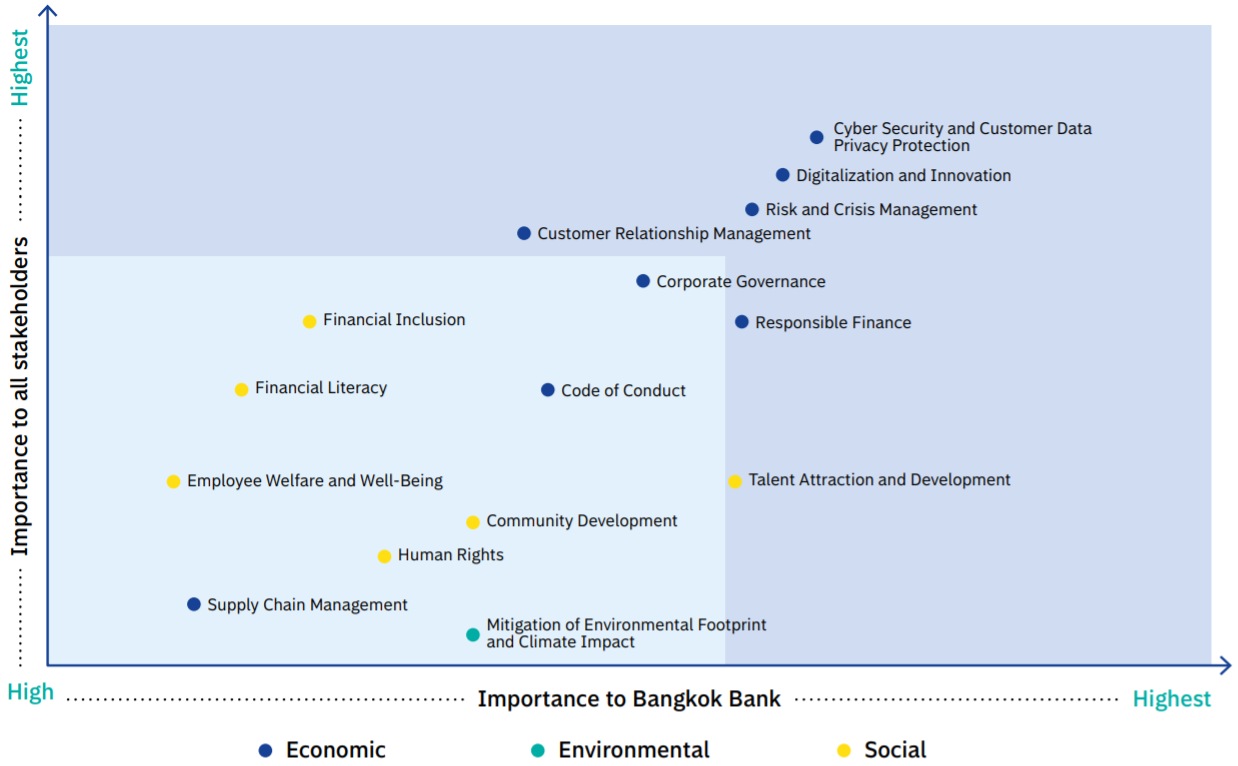 Sustainability Performance
The Bank implements sustainability policies, guidelines and activities that promote the UN Sustainable Development Goals (UNSDGs). The Bank established five sustainability guidelines that are aligned with 15 materiality issues, each of which has been incorporated as a part of the Bank's strategy to meet the expectations of all stakeholders and to jointly create value for the economy, society and the environment and to support the sustainable growth of the Bank.